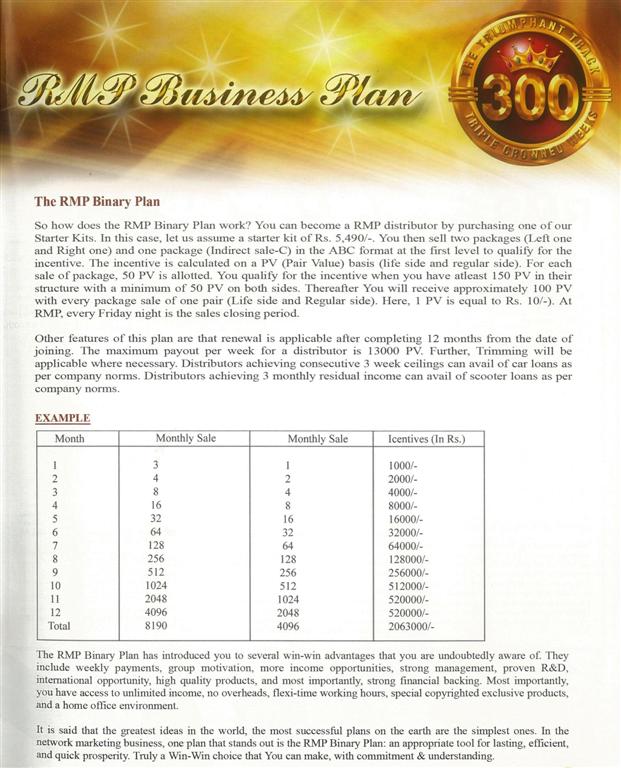 A Win-Win Choice
Millions of successful people down the years have treasured one secret of success that makes all the difference. And, we at RMP want to share it with You. It is very simply this: Think Different. In a situation when everyone else is following the beaten path, it takes courage to step out and create your own path. It takes courage to think different. It is the secret of winners. It is the guidepost for pioneers. And, it is the code of the leaders. That is precisely what RMP offers You, when you make the decision to 'Grow with Us'! Let us show you the RMP Business Plan is the best win-win choice that you can make.
Since 2001, every step that RMP has taken in the Indian marketplace is a unique one. The greatest proof of this statement lies in the instantly successful RMP Business Plan. Consider it and you will find that it is worth your every effort. It is worth your time and it is the basis upon which your successful future will be built. The premise is simple and certainly the latest offered by the Network Marketing Business. The RMP Business Plan brings you the best of both worlds, ensuring your financial income, while building your distributor network.
The RMP Business Plan enables You to occupy one or more 'business centers, each limited to two downline legs. This means that your compensation is paid based on the group volume of the downline legs as opposed to a percentage of sales of multiple levels of distributors. In other words, the payments are volume driven and not level driven. In this light, you are eligible for commission at designated points, when the sales volume is balanced in both legs and the target levels of group sales are achieved. The good news here is that RMP's Business Plan brings you a weekly income, all other things being equal.
So how does the RMP Business Plan work? You can become a RMP distributor by purchasing one of our Starter Kits. In this case, let us assume a starter kit of Rs. 4,990/-. You then sell two packages (Left one and Right one) and one package (Indirect sale-C) in the ABC format at the first level to qualify for the incentive. The incentive is calculated on a PV (Pair Value) basis (life side and regular side). For each sale of package, 50 PV is allotted. You qualify for the incentive when You have atleast 150 PV in their structure with a minimum of 50 PV on both sides. Thereafter You will receive approximately 100 PV with every package sale of one pair (Life side and Regular side). Here, 1 PV is equal to Rs. 10/-). At RMP, every Friday midnight is the sales closing period.
Other features of this plan are that renewal is applicable only after completing 12 months from the date of joining. The maximum payout per week for distributor is 13000 PV, Further; Trimming will be applicable where necessary. Distributors achieving consecutive 3 week ceilings can avail car loans as per company norms.
| | | | |
| --- | --- | --- | --- |
| Month | Monthly Sale | Eligible Pair | Incentives (in Rs.) |
| 1 | 3 | 1 | 1,000 |
| 2 | 4 | 2 | 2,000 |
| 3 | 8 | 4 | 4,000 |
| 4 | 16 | 8 | 8,000 |
| 5 | 32 | 16 | 16,000 |
| 6 | 64 | 32 | 32,000 |
| 7 | 128 | 64 | 64,000 |
| 8 | 256 | 128 | 1,28,000 |
| 9 | 512 | 256 | 2,56,000 |
| 10 | 1024 | 512 | 5,12,000 |
| 11 | 2048 | 1024 | 5,20,000 |
| 12 | 4096 | 2048 | 5,20,000 |
| TOTAL | 8190 | 4095 | 20,63,000 |
Coming to RMP's other plans, the RMP E-Commerce Plan rides on the crest of the IT industry's growth bringing you the following advantages: Doorstep delivery, clear product categorization, Online purchase at best prices, wide range of product choices, efficient and user-friendly purchasing methods & purchase after complete satisfaction. The RMP E-Shopping plan takes our distributor commitments a significant step further. They include: doorstep delivery of world class products, Next Generation technology education, Increased income through the RMP Business Plan, a marketable range of over 100 world class products and all purchases to be made online through the revolutionary RMP E-Card available in denominations of Rs. 500/-, Rs. 1,000/- and Rs.5,000/-). The RMP Business Plan has introduced you to several win-win advantages that you are undoubtedly aware of. They include weekly payments, group motivation, more income opportunities, strong management, proven R&D, international opportunity, high quality products, and most importantly, strong financial backing. Most importantly, you have access to unlimited income, no overheads, flexi-time working hours, special copyrighted exclusive products, and a home office environment. It is said that the greatest ideas in the world, the most successful plans on the earth are the simplest ones. In the network marketing business, one plan that stands out is the RMP Business Plan: an appropriate tool for lasting, efficient, and quick prosperity. Truly a Win-Win choice that You can make, with commitment & understanding.
"WINNERS DON'T DO DIFFERENT THINGS;
WINNERS DO THINGS DIFFERENTLY!"