<![if !vml]>

<![endif]>

This website is created by RMP independent distributors of the Gulf TEAM for its own members.
This website has no connection with RMP Infotec or its subsidiaries.
This website is created for providing vital information about RMP Business Opportunity for its members who wants to Earn Big.
ur key leaders are Sunil Babu, Executive Diamond Achiever and K.J. Anthony, Diamond Executive and Abilash Thomas, Diamond Executive and who is also an amazing TRAINER. We have several Achievers in Oman, Saudi Arabia, Kuwait, Qatar.
Most of the information is gathered from RMP 300 Weeks Diary.
Antony Bava and Sunil Babu our TEAM Leader.

Dr. Shamsudin - A great leader and our Inspiration. -

Presently has 55 lakhs of distributors under his leadership.
RMP opened their first middle east office in Dubai, UAE. Prelaunch was on 18th July 2008 at the prestigious Al Burj Hotel
Official launching was held at the Sheikh Rashid Auditorium on 29th August 2008.
In the near future RMP Infotec will open their branches all over middle east.
---
If You Are Looking For Fast Income
Look No Further! Check This Out
See why thousands of people from all over the India are joining RMP Infotec at record rate !
---
www./rmpinfotec.biz/middleeast
- What is RMP - Its "Resource Money Power"
A Business of the People, for the people, by the people
A home based business and Investment / MLM / Distributorship opportunity with an concept, which is creating waves on the Internet.
Company Profile:
RMP Infotec Private Limited was established in August 2001 with the basic idea of educating and training the common people with latest computer technologies to meet with global standards of Information Technology. RMP also offers innovative products to target various sectors of people. RMP edges to give an ultimate network marketing essence with wider business growth and opportunities. RMP is backed up with an excellent base of binary plan which gives the Distributor an opportunity to earn uninterrupted income. The well organized system enhances our Distributors to have easy and effective completion of work.
RMP Mission:
"To motivate everyone to realize and recognize their inner potential and turn it into a an asset for personal growth
and overall success"
RMP Vision :
To create a Company that deals with everything from a pin to a plane

To Market quality consumer goods and services at competitive prices

To provide lasting "Self Employment" opportunities for everyone

To make everyone in the RMP NETWORK into "Lakhpatis" and Crorepatis"

To create "Income Opportunities" that improve economic status of India
If you need any information, please feel free to contact us - Our Email: rmpoman@hotmail.com
An opportunity to earn Rs. 1,000 a week to Rs.1,30,000 a week through Direct Selling
THIS IS AN OPPORTUNITY, WHICH, CAN EARN YOU TREMENDOUS WEALTH, FURTHER IF YOU FOLLOW THE STEPS IN AN ORGANISED MANNER.
BEFORE BECOMING A DISTRIBUTOR OF RMP INFOTEC PVT. LTD. PLEASE READ RULES AND REGULATIONS OF JOINING, PROVIDED AT THE END OF THIS PAGE.
The RMP business model is designed so that both You and the company selling the product benefit maximum.
Your success depends on this simple 1-2-3 formula:
1 Product

<![if !vml]><![endif]>

Purchase one product from RMP from the comfort of your home

2 Referrals

<![if !vml]><![endif]>

Refer two people to RMP.
You need at least two people to qualify for payouts (and get your first cheque)

3 is a Team

<![if !vml]><![endif]>

Help Your team duplicate steps 1 and 2.

The Product: From the official RMP website, purchase any 1 product. Enter all the required details and pay by Credit Card or DD. The product will be delivered to your house (or you can pick it up from your nearest RMP office).

This is an important step. Please ensure that you enter all your details correctly. If you need any assistance please get in touch with us.

Two Referrals: Refer at least two people to RMP in order to become a qualified distributor (They could be your family members, relatives, friends or even yourself) and kickstart your income! The RMP business works on the Binary Plan.

Three is a TEAM: You are the boss now! Train and guide your referrals to replicate. Teach them how to use the online registration system. If they need help in promoting RMP, guide them. Go along with them to meet prospects. Remember, their success is your success.
<![if !vml]><![endif]>
<![if !vml]><![endif]>

Every Friday midnight will be sales closing period. The entire week's business is totaled on Saturday and Sunday, the Cheques are couriered to you by Tuesday..

You can expect your network to grow to 100-200 people within a few months, depending on how dedicated you are and the kind of people you recruit.

The maximum payout per week for a distributor will be Rs 1,30,000.
Some important facts about RMP Infotec Direct Selling Opportunity
· Established in August 2001
· ISO 9001-2000 Certified Company
· Member of FICCI
· Member of World Trade Organisation (WTO)
· Global Online Business Opportunity
· Provide a Personalised Website
· Promotes only Branded Products
· Zero Investment (Buy One product)
· Weekly Payouts (Rs. 1,000 – Rs. 1,30,000 – depending on sales)
· Family Mart Income / E-Commerce Income
· Royalty Income
· Unlimited Income through Binary Plan
· Punctuality in delivery of products / incentive/commission payments
· All transactions through Bank
· Presentations/Training in all major cities of India
· Into 8th years of Successful business
· 55 Lakhs of Distributors in India and Abroad
· More than 300 Crorepathis
· Numerous Benz / BMW / Luxury Car Achievers
· Thousands of Lakhpathis
· Thousands of Foreign Trip Achievers
Steps to become a Distributor of RMP Infotec. -
Get a Demand Draft for the the product you have selected .

Visit www.rmpinfotec.biz; click on Registration.

Duly fill in the Registration form.

Take the TrackID and User Name of the person, who introduced you, eg.: RMPshwethaprem050705, - This is an example only, you take the TrackID / Username from the person who introduced you to RMP -

Once all data is entered including the DD details, click Submit.

You will get the Distributorship, Trackid, Username, etc.

Visit www.rmpinfotec.biz , click members, enter YOUR USERNAME and PASSWORD, you will see your TREE, where you can start your business.

You can now start introducing people and earn commissions of Rs. 1,000 for every 2 Persons (1 Left + 1 Right) joining below you, introduced by you or your TEAM.
SOME OF OUR BUSINESS PARTNERS
<![if !vml]>

<![endif]>
<![if !vml]>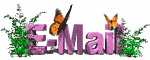 <![endif]>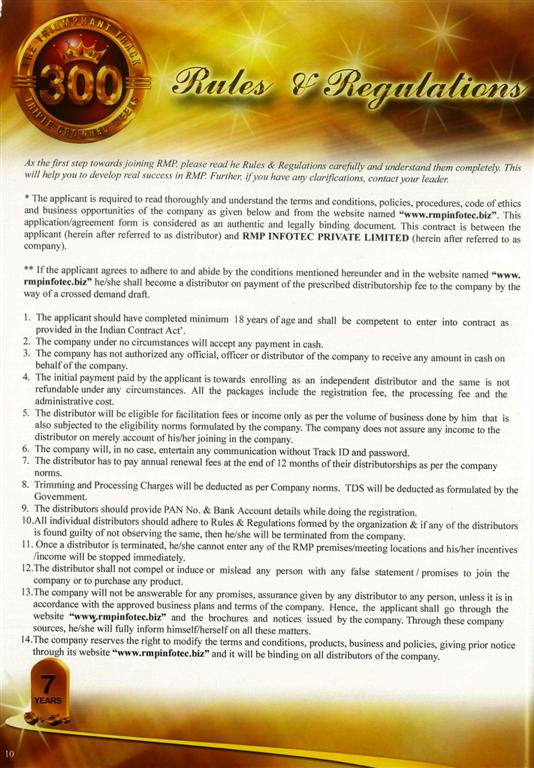 This Website is hosted on July 12, 2005
1st Update: June 16, 2006
2nd Update: October 21, 2008